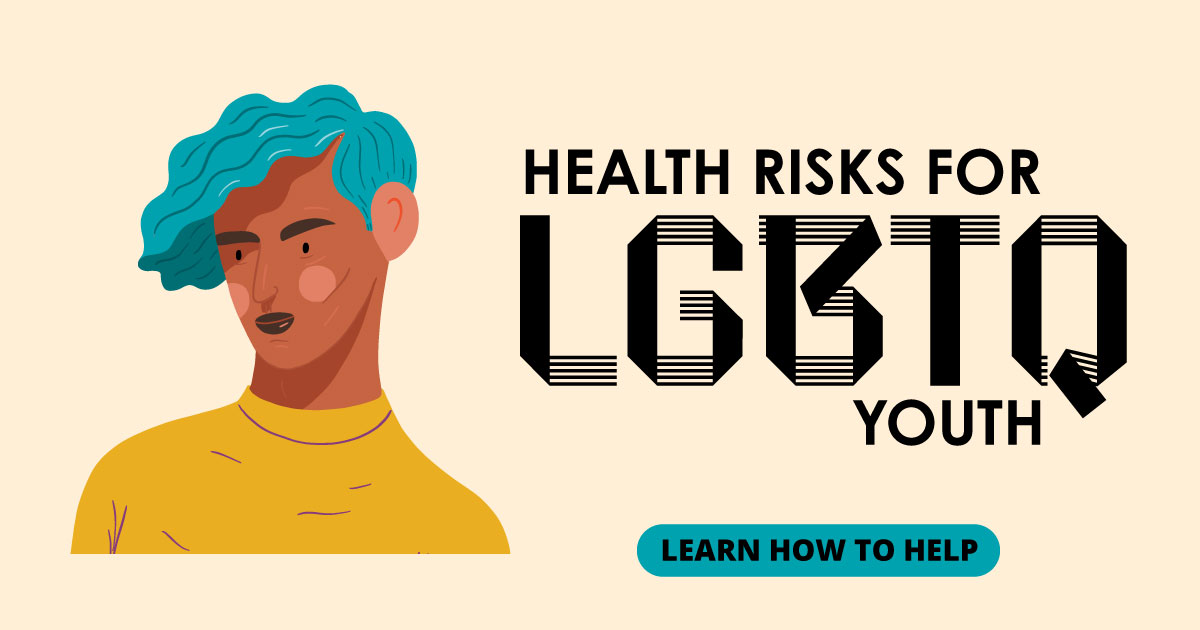 Reviewed 10/10/2023
HELPING YOUR LGBTQ CHILD STAY HEALTHY
LGBTQ youth are at increased risk for a number of health problems due to stigma, bigotry and other factors. These problems can follow kids into adulthood.
Fortunately, supportive parents and families can help LGBTQ kids live healthy and happy lives. LGBTQ youth who feel valued by their parents are less likely to experience depression, attempt suicide, use drugs and alcohol, or get a sexually transmitted disease.
Below you'll learn about some of the health concerns often faced by LGBTQ youth and get tips for how you can help.
BULLYING AT SCHOOL
LGBTQ students are much more likely to be bullied at school than are their non-LGBTQ peers.
How to help:
Don't minimize the bullying. Instead, stand up for your child. Report the problem to the school's administrators. Let them know you won't tolerate your child being bullied and ask them to come up with a plan to stop it.
MENTAL HEALTH CONCERNS
LGBTQ youth are more likely to report having felt sad or hopeless or to have seriously considered suicide.
How to help:
Let your child know they can talk to you about anything. Be on the lookout for red flags, such as:
Excessive sleeping, difficulty sleeping and other sleep disorders.
Loss of self-esteem.
Loss of interest in favorite pastimes.
Sudden decline in academic performance.
Weight loss and loss of appetite.
Personality shifts and changes.
If you spot any of these signs, ask your child's provider to refer you to a mental health specialist.
SEXUAL ABUSE
LGBTQ youth are more likely than their non-LGBTQ peers to experience sexual assault.
How to help:
Start talking to your kids at a young age about safe touching, and let them know it's OK to say "no." Let them know they can always talk to you, especially if it's something they've been told to keep secret. As your child gets older, have open, honest conversations about sex. Talk with them about how to avoid risky behavior and unsafe situations.
SUBSTANCE ABUSE
LGBTQ youth are more likely than their non-LGBTQ peers to use alcohol and other drugs—including prescription opioids.
How to help:
Research suggests that this risk decreases in kids whose parents accept their LGBTQ identity. Family support of a child's LGBTQ identity also helps the child better withstand other sources of stress, such as school bullying.
Ways you can offer support include inviting your child's LGBTQ friends to join family activities and taking your child to LGBTQ events. You can also help your child find a local LGBTQ youth group, preferably one that takes a strong stance against substance abuse.
PROTECT YOUR CHILD'S HEALTH
Below you'll find more information about how you can help your child stay healthy.
CHILDREN AND PARENTING TOPIC CENTER
TEEN SUBSTANCE ABUSE ASSESSMENT
Sources