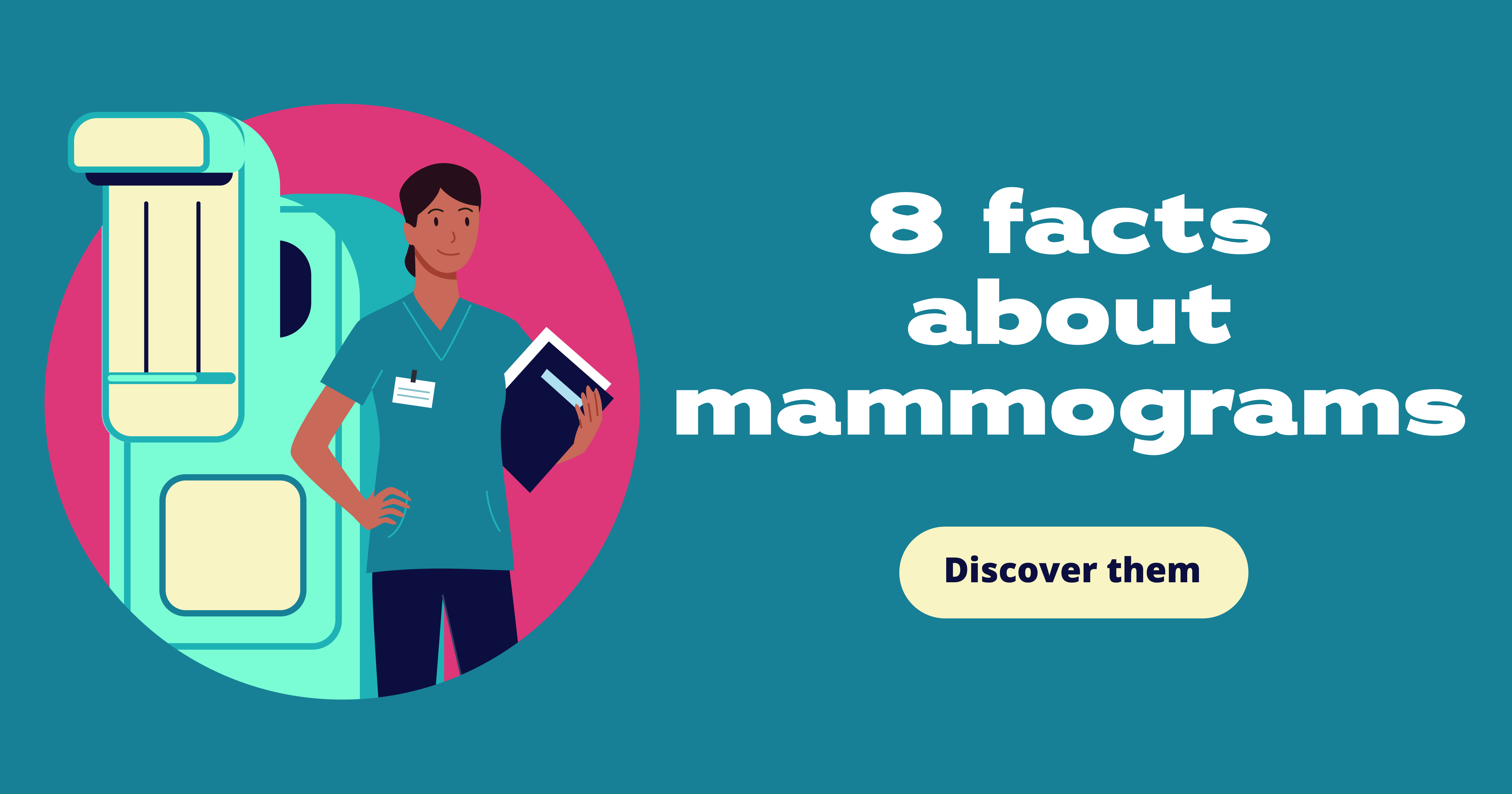 8 facts about mammograms
Breast cancer is one of the most common cancers among women in the U.S. Fortunately, regular mammograms can help detect the disease in its early stages, when it's often easier to treat. Here are eight facts that can help you better understand this important screening test.
MAMMOGRAMS ARE X-RAYS.
The images taken during a mammogram can help reveal abnormal areas in the breast that could be cancer. A mammogram can detect these changes before they can be felt.
THERE'S MORE THAN ONE TYPE OF MAMMOGRAM.
Mammograms can be 2D or 3D. Both types use x-rays, but a 3D mammogram machine takes many x-rays as it moves in a small arc around the breast. A computer then puts these images together to create a 3D view of breast tissue.
Both types of mammograms are good at looking for breast cancer. Your doctor can tell you if one might be a better choice for you than the other.
GETTING A MAMMOGRAM DOESN'T TAKE MUCH TIME.
A screening mammogram takes only about 20 minutes to complete. You'll stand in front of the machine, and the technologist will place your breast between upper and lower plastic plates. To get a high-quality picture, your breast will be compressed for about 10 to 15 seconds during each scan. This might be a little uncomfortable. If it's too painful, be sure to tell the technologist.
MAMMOGRAMS ARE SAFE.
Mammography exposes the breast to a small amount of radiation—less than what you would get from x-rays used to examine other parts of the body. The benefits of the test outweigh any possible harm from this radiation exposure, according to the American Cancer Society (ACS).
MAMMOGRAMS CAN BE USED FOR SCREENING OR TO HELP WITH DIAGNOSIS.
The same types of mammography machines are used for both screening and diagnostic mammograms. But a diagnostic mammogram takes more images.
Despite its name, a diagnostic mammogram can't show for sure if a woman has breast cancer. But the results can help doctors decide if other tests, like a biopsy, are needed.
A CALLBACK DOESN'T MEAN YOU HAVE BREAST CANCER.
You might be called back for more tests if your original mammogram isn't clear, if it doesn't show some of your breast tissue or if there's an area of concern. It's normal to feel nervous if you receive a callback. But keep in mind that most women who are called back for more testing don't have breast cancer.
WHEN TO GET MAMMOGRAMS DEPENDS ON YOUR AGE AND RISK FACTORS.
The ACS recommends that women ages 40 through 44 have the option to start screening with a mammogram every year. Women at high risk for breast cancer may need to start screening earlier than this. Talk to your doctor about your risk for breast cancer and the screening schedule that's best for you.
YOU CAN GET HELP PAYING FOR A MAMMOGRAM.
If you don't have insurance or you're worried about your ability to pay for a mammogram, ask your healthcare provider for information about free or low-cost mammography programs in your area. You can also learn more about these programs at the Centers for Disease Control and Prevention website or by calling the National Cancer Institute's Cancer Information Service at 800.4.CANCER (800.422.6237).
Make your next mammogram a success
Check out these additional tips for ease, comfort and an accurate exam.
Reviewed 9/12/2023
Sources