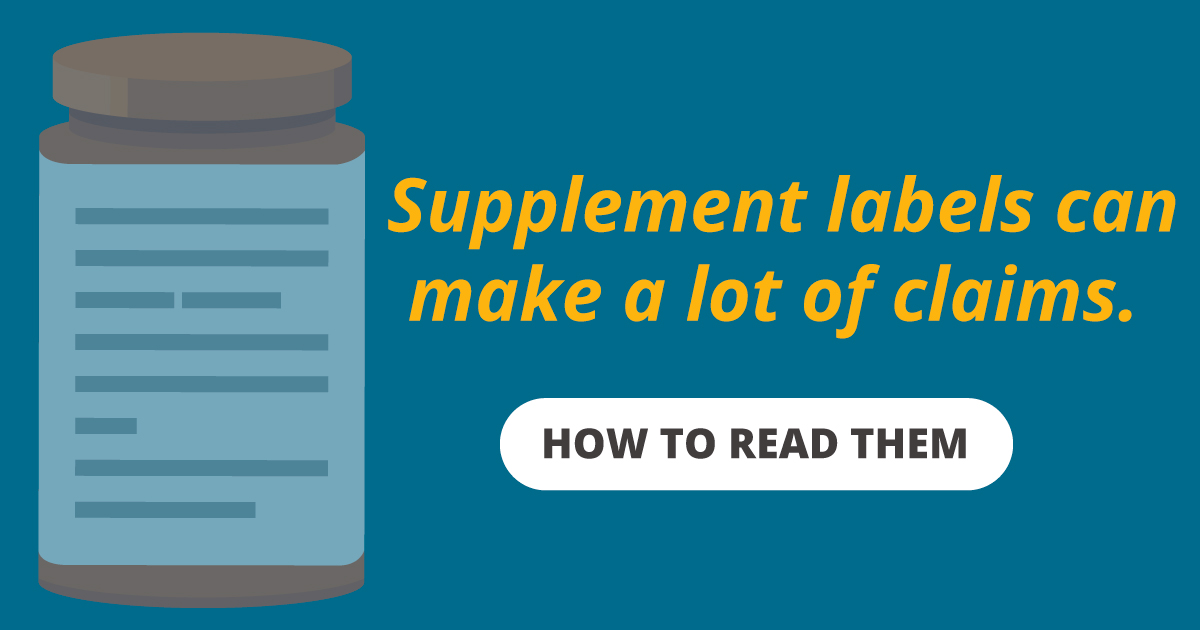 Reviewed 12/16/2022

How to read a dietary supplement label
The U.S. Food and Drug Administration (FDA) requires that certain information appear on dietary supplement labels. By reading the label, you can get a better idea of what you are putting into your body. It's also wise to talk with your healthcare provider about whether you need a supplement and, if so, which one to choose.
So what should you look for on a dietary supplement label?
STATEMENT OF IDENTITY
Includes the brand name and a statement that the product is a dietary supplement.
QUANTITY OF CONTENTS
The number of capsules, pills, etc., in the package.
DIRECTIONS FOR USE
This is the manufacturer's statement about how to properly use the product, including how much of it to take.
CLAIMS
The following claims can be used on supplement labels:
Health claims describe how a supplement ingredient might reduce the risk of a disease or illness.
Nutrient content claims describe the level of an ingredient using terms like free, high and low.
Structure/function claims such as "calcium builds strong bones" describe how an ingredient is intended to affect the body.
CAUTIONARY STATEMENT
The label may contain a cautionary statement saying that the product has not been evaluated by the FDA or is not intended to diagnose, treat, cure or prevent any disease. This statement does not mean that no adverse effects are associated with the product.
SERVING SIZE
For example, 1 tablet.
DIETARY INGREDIENTS
A list of all ingredients with amount included in each serving. If the ingredient is botanical, the label must include either the scientific or common name of the plant.
DAILY VALUE
A percentage of the supplement's Daily Value, if it has been established.
OTHER INGREDIENTS
A list of non-dietary ingredients such as fillers, artificial colors, etc., in descending order of prevalence.
MANUFACTURER INFORMATION
The name and address of the manufacturer or distributor.
A WORD OF CAUTION
The FDA does not analyze the content of dietary supplements before they are marketed. A supplement might:
Not contain the correct ingredient.
Contain higher or lower amounts of the active ingredient.
Be contaminated.
For advice on whether you need a supplement, and which one to choose, talk to your healthcare provider.
To learn more about supplements:
VISIT OUR VITAMINS HEALTH TOPIC CENTER
Sources: National Institutes of Health; U.S. Food and Drug Administration
Sources