Oatmeal pecan waffles (or pancakes)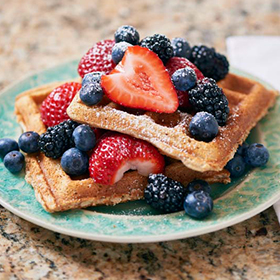 Makes 4 servings.
Ingredients
For waffles:
1 cup whole-wheat flour
1/2 cup quick-cooking oats
2 teaspoons baking powder
1 teaspoon sugar
1/4 cup unsalted pecans, chopped
2 large eggs, separated*
1 1/2 cups fat-free (skim) milk
1 tablespoon vegetable oil
For fruit topping:
2 cups fresh strawberries, rinsed, stems removed and cut in half (or substitute frozen strawberries, thawed)
1 cup fresh blackberries, rinsed (or substitute frozen blackberries, thawed)
1 cup fresh blueberries, rinsed (or substitute frozen blueberries, thawed)
1 teaspoon powdered sugar
Directions
Preheat waffle iron.
Combine flour, oats, baking powder, sugar and pecans in a large bowl.
Combine egg yolks, milk and vegetable oil in a separate bowl, and mix well.
Add liquid mixture to the dry ingredients, and stir together. Do not overmix; mixture should be a bit lumpy.
Whip egg whites to medium peaks. Gently fold egg whites into batter.*
Pour batter into preheated waffle iron, and cook until the waffle iron light signals it's done or steam stops coming out of the iron. (A waffle is perfect when it is crisp and well-browned on the outside with a moist, light, airy and fluffy inside.)
Add fresh fruit and a light dusting of powdered sugar to each waffle, and serve.
*For pancakes, do not separate eggs. Mix whole eggs with milk and oil, and make pancakes as usual.
Nutrition information
Serving size: 3 small (2-inch) or 1 large (6-inch) waffle. Amount per serving: 340 calories, 11g total fat (2g saturated fat), 50g carbohydrates, 14g protein, 9g total fiber, 331mg sodium.