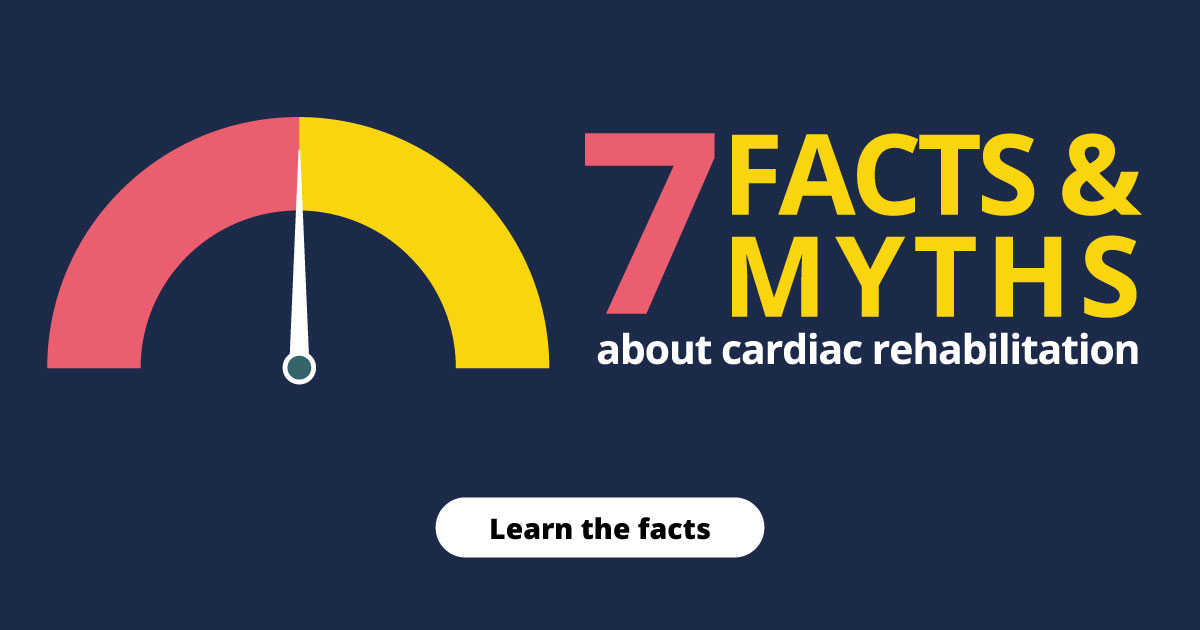 Reviewed 7/31/2023
7 FACTS & MYTHS ABOUT CARDIAC REHABILITATION
Cardiac rehabilitation is a good idea for almost anyone who's had a heart event, surgery or procedure. Cardiac rehab teaches you how to avoid further heart problems.
Cardiac rehab has proven health benefits. Unfortunately, many people who are eligible for the program don't take part.
Read up on some of the myths and facts about cardiac rehab below. If you think you or a family member might benefit, ask your doctor about the program.
FACT: You need a referral from your doctor for cardiac rehab.
You may benefit from a referral to cardiac rehab if you've experienced one or more of the following:
Heart attack.
Heart condition such as coronary artery disease, angina or heart failure.
Heart procedure or surgery such as angioplasty, valve replacement or bypass surgery.
If your doctor hasn't brought up cardiac rehab, ask about it at your next visit.
MYTH: Health insurance doesn't usually cover cardiac rehab.
Medicare and most other insurance providers pay for cardiac rehab for people who are eligible for it. If you're a candidate for rehab, talk to your medical team and your insurance provider to find out if it's covered.
FACT: Regular exercise is an important part of cardiac rehab.
A cardiac rehab specialist will design a physical activity program tailored to your abilities. You will be closely monitored throughout to make sure your heart is handling the load.
Other vital parts of cardiac rehab include:
Heart-healthy eating.
Stress reduction.
Quitting smoking.
Drug therapy.
MYTH: You can be too old to benefit from cardiac rehab.
Cardiac rehab is about more than living longer. It's about living a high-quality life right now. Ask your doctor how cardiac rehab can be customized to your age and abilities.
FACT: The main goal of cardiac rehab is to help keep you from developing or dying from heart problems.
Cardiac rehab can:
Lower the risk for a second heart attack or surgery.
Reduce your overall risk of dying or having a future cardiac event.
Help you manage risk factors like high blood pressure and cholesterol levels.
Help you lose weight.
Lessen chest pain.
MYTH: Cardiac rehab is only about improving physical health.
In addition to helping your body, cardiac rehab will also help you address the emotional aspects of having a heart problem or recovering after surgery. Your rehab team may include specialists like mental health professionals or social workers who focus specifically on this.
MYTH: Cardiac rehab is something you'll do for the rest of your life.
Though the exact program will vary according to your needs, cardiac rehab usually lasts around three months, with sessions occurring several times a week.
Learn more about your heart
Visit our Heart Health topic center to learn more about taking care of your heart.
Sources